Book a live video call from Santa Claus direct from the North Pole.
Watch the video below for the children's reactions
Book Santa to call and chat to your young ones.
As any Parent or Grandparent knows. Christmas is such a magical time of year for young children. So just imagine the look on the faces of your little ones when they receive a video call from the "Real Santa" Who knows all about what they want for Christmas as well as the names of all of their family members and pets. 
Santa will also tell them that they have made it onto the "Nice List" and that he will send them a special personalised certificate that they can keep and show to all of their friends and family. Santa and his favourite little magical Elf Nikki will also tell them all about going to bed early on Christmas Eve and that if they wanted they could leave him a nice glass of milk and a cookie or mince pie and a carrot for his reindeers.
*See the video above*
Don't take our word for it...

A few comments from happy customers...
Thank you so much for the wonderful call to Molly and Oscar this morning. They both keep retelling us parts of it, and every part of the call was so brilliant – so special. Molly had questioned about whether Father Christmas was real last week, but there is no doubt at all now that she 100% believes, just magic.
Fiona Rigby – Parent  –  Hampshire UK

Hi there,
I cannot thank you enough, the girls were in.absolute awe of you both!. You did an outstanding job the girls were a bit quiet, as they were in so much shock I think.
Thank you again , you have lifted their spirits and I was so worried this year may have dented it!. Thank you
Kind regards
Senna – Parent

Thank you for this morning it was fantastic! I've never seen William so quiet!! He's just turned 7 and has been questioning if Santa is real this year – this has definitely kept the magic alive!!! He was absolutely amazed. They both have been talking about him and the elf all day,
Thanks again – it's the best Santa we have ever seen!
Merry Christmas!
Vicky Glassett – Parent 

Thank you both so much the girls thought it was brilliant especially Ava couldn't get over how you knew what she wanted without telling you and that we didn't have a chimney! Very magical! X
Samantha Stevens – Parent 

Thank you very much for all your time and effort in making the Christmas magic and cheer happen this Christmas. Santa was fantastic and they found Nikki the Elf very funny and loved her magic tricks. 
All 3 children loved it and haven't stopped talking about it. 
Thank you again 
The Barron's – Parents  – Hampshire UK

Good evening
Thank you for the call today. They LOVED that they did magic with an Elf haha. They are so excited to tell their friends on Monday at daycare. Summer kept whispering to me, during the call, "I can't believe I made the nice list" (nor can we haha), and she was SO happy about this.
Thanks again and we hope you have a wonderful Christmas.
Take care and stay safe xx
Thank you again 
Kelly Chittenden – Parent – Canada.

Hi I would just like to say that was absolutely amazing !
I can honestly say it was magical for my children , Thankyou both so so much they loved every second of it !
Hope you have a lovely Christmas
Carly Smith – Parent – Southampton UK

Good evening,
Thank you for the awesome video call and the certificates and activity book. I'm getting them printed tomorrow. The children loved seeing Santa and his Elf and so surprised he knew everything about them. 
Candice Lee Van Rooyen 
– Parent – South Africa
Your children will also receive...
A Special Nice List Certificate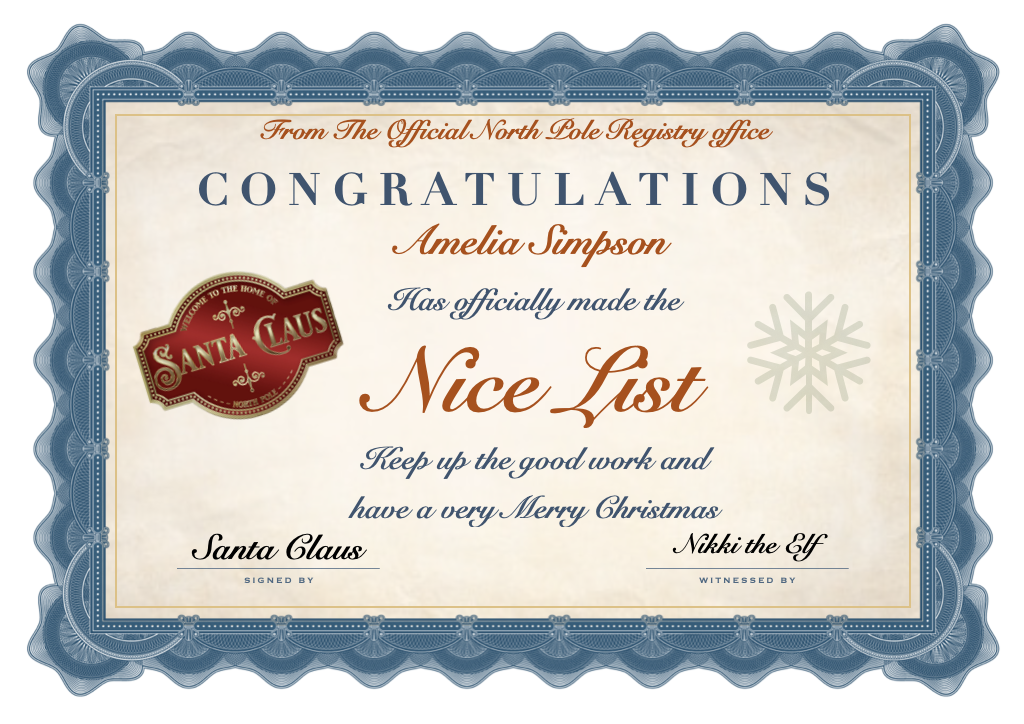 Santa's Christmas Activity Pack

Watch thew Video Below...

Add Your Heading Text Here
Check out how many days there are to Christmas below...